Mar 05 2008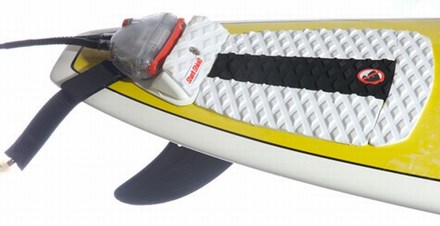 We've all had shark fears in the water. For $645, the Shark Shield promised us a future of worry-free surf sessions and explorations of waves and coasts no one would consider surfing now. The term "Sharky" would be a term of the past. Well, don't hold your breath.
Turns outs one of the Shark Shields was eaten whole by a female great white in testing off South Africa. Shark Shield Test
Who hasn't had shark jitters in the water while surfing? I was surfing Manhattan Beach last September during an epic combo swell right after Labor Day where the water was warm and amazingly clear when a shark swm right underneath me. I saw the shape, looked down and it saw right below me, turned slowly around in front of me and swam back underneath me. It was at last 5 feet (it honestly looked a lot bigger than that, but no one would be believe if I told them that I bumped fins with an 8 or 10 ft white shark at Manhattan Beach). Needless to say, I paddled straight in. I shouted to the guy 20 yards away from me, who that I was a kook. As I looked back over my shoulder, I saw its dorsal fin above the water heading away from me. I never expected to see my first shark surfing in SoCal especially after surfing San Francisco and NorCal for 10 years!
I know I've got a list of spots I'd want to paddle out to, where would you surf if you could have a shark repelling device guaranteed to work?
[via UberReview]