Mar 26 2008
I've taken more than a few friends out to teach them surf. What I've learned is that there are good places to start and bad places. I took my brother out to surf at Ocean Beach San Francisco on what I thought was a small day, only to watch him go over the falls on a solid overhead wave while paddling out . He got washed back to the beach and called it a day. I learned to surf at Cowell's Beach in Santa Cruz and stood up on the first wave I paddled for and rode it to the beach. Here's a list of places to bring your friends or head to yourself.
Cowell's Beach, Santa Cruz
I can't imagine a better wave to learn on. Although the water's generally cold, there always seems to be some swell in the water at Cowell's The crowd is generally all beginners on foam boards, so it's pretty safe and you don't have to worry about hassling locals. The wave breaks on the outside and just rolls slowly over 100 yards to the beach. Most surfers are just going straight anyway, but the wave is has the perfect speed and steepness. If you're there for a weekend, Santa Cruz is a very cool town and offers beautiful rugged Northern California beaches and Redwoods forests for exploration. Rent a surfboard and beach cruiser and hang in the chillest Northern California city.
Waikiki is the warm-water version of Cowells. Or vice versa, since surfing originated in Hawaii. Waikiki has a long history of surfing. There's waves all over the beach that a slow and rolling; the scenery is stunning; and there's something very cool about learning where generations of Hawaiians have learned and ridden surf for centuries. Hawaii obviously has plenty to offer between sessions.
One thing you can be sure of in Miami Beach, it won't ever be too big to learn. Miami seems to get a constant pulse of waist high surf and generally on-shore conditions. This guarantees great learning conditions and few locals to crowd the surf up. The beach goes on for miles, so you it won't be hard to find a place to yourself. The water's warm and you're only a short walk from some of the best partying in the country also.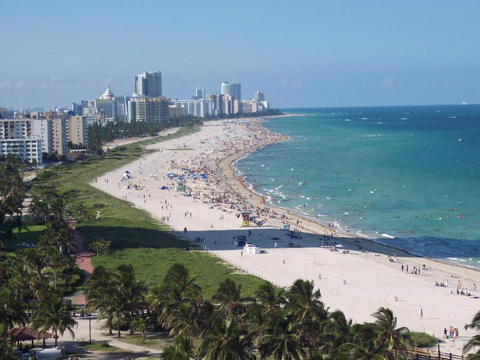 Mal Pais, Costa Rica
Everyone has a friend or ten that have been to Costa Rica. The surprising thing about Costa Rica is that it lives up to its reputation and there are still plenty of unspoiled beautiful areas and remote beaches. Mal Pais/Santa Teresa is a beautiful beach village with a beach break that stretches for miles. It's not touristy (not yet) and there's plenty of ex-pat cafes and yoga to explore. There's always swell, but the best times to surf are in the dry season from November to March. Come April, the South Pacific starts coming alive and the waves can get too big to learn to surf on.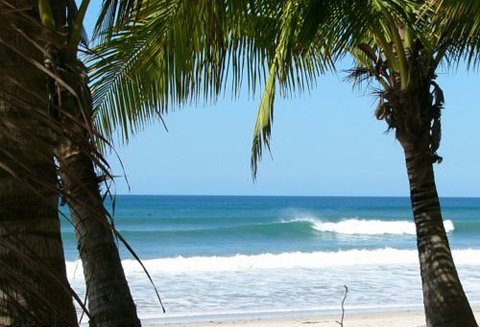 Florianopolis, Brazil
Learn to surf trips involve generally little surfing and a lot of beach time. Florianopolis is an island in Southern Brazil surrounded by beautiful beaches. There's a huge beach and surf culture in Brazil and plenty of board shops on the island. The nightlife in Brazil is legendary. Check out Florianpolis during our winter months and the peak of their summer. Between December and February the islands is packed with vacationing Brazilians. The beaches are busy and clubs are going all night. Nothing like a surf session to cure a hang-over.