Apr 04 2008
El Salvador is an up and coming surf destination with great surf for all levels, uncrowded waves, and excellent exposure to Southern swell. It's one of the cheapest surf destinations and is a short flight from the U.S. Ravaged by civil war and violence through the 80s and 90s, until recently El Salvador was considered an unsafe place to travel. In the past 10 years, surfers have gradually started returning to El Salvador and finding epic waves and empty line-ups. Surfing has grown among Salvadorians, and the best breaks do see crowds. However, El Salvador still has a lot to offers with long pointbreaks, friendly locals, and a relaxed surf scene.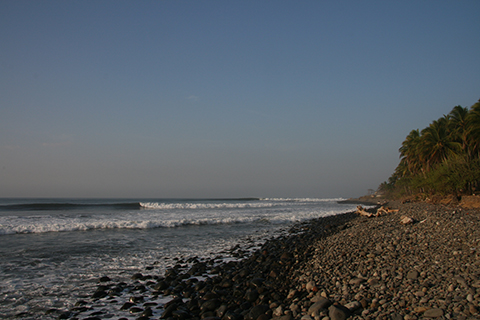 Destination: El Salvador
Time of Year: April through September
Breaks: Punta Roca, Punta Mango, Sunzal
Level: All levels
Cost: Inexpensive ($20/day and up)
Car Rental: Not necessary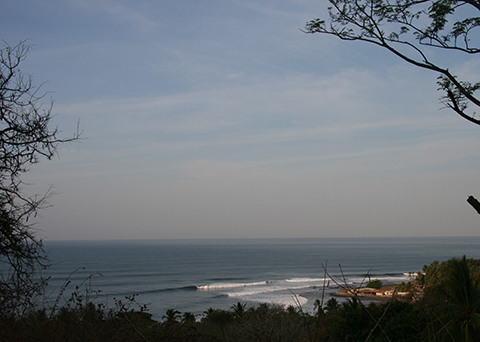 La Libertad has a reputation for crime and it's recommended that you don't spend time there at night. There have been muggings of surfers on the walk through the cemetery at Punta Roca. It's advisable to keep a low profile, avoid going out at night, and hide valuables. In the two weeks I was in El Salvador, I never saw or experienced any trouble at all. Many of the rumors of problems are from a few years back and the safety of the area seems to have improved considerably. The country overall is poor. The infrasctructure and roads are surprisingly good (especially the coastal road).
South swell pumps through El Salvador from April through September. It has excellent exposure to swell. In particular, Sunzal was never less than head high for my entire two week trip. March through August winds tend to pick up late morning and blow sideshore/onshore, blowing out some of the waves (Sunzal is still surfable). August and September is the hurricane season and weather is variable. From October on, starts the dry season and the winds are light to offshore.
Getting there: I arranged a trip through Wave Hunters last April. I arrived early at Sunzal (the village of El Tunco) to meet up with some friends and surf before our guided tour began. Salvadorians are in general very friendly and welcoming. They haven't been used to tourists and are excited to have Gringo's coming down to explore their country and surf.
Flight from the U.S. average around $500 for a four hour flight from California. If you're going to rent a car, a 4×4 is not necessary although it's recommended you stay by the coast with a rental. A taxi from the airport to El Tunco is around $25.
El Tunco is a small village with a couple hotels and two smaller guest houses 15 minutes from La Libertad. I stayed at for $10/night. There was no AC but it was surprisingly comfortable. "hotel" was $25/night for a double with AC. There's a pool and the food there is good, but far cheaper at Erica's. El Salvador is incredibly cheap. You could live and surf comfortably on less than $20/day.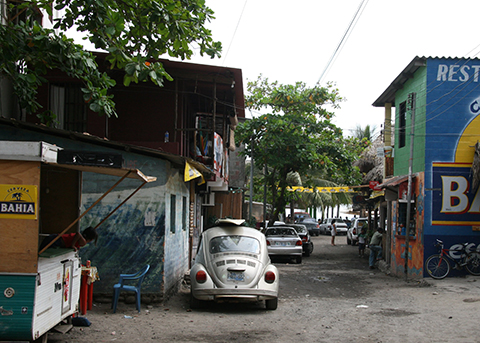 We had a guide for our trip, but it's easy to the trip without a guide. From El Tunco and the area you take a rental car or arrange for a taxi to Punta Roca and breaks by La Libertad as well as El Zonte. K59 requires a hike and is more difficult to find. You can also hire a guide for the day to take you to out of the way spots.
Breaks: With the exception of a couple breaks, the locals in the line-ups are similarly friendly and open. A short walk down the beach from El Tunco is El Sunzal, a long right hander that seems to pick up every bit of swell in the water. In two weeks, I never saw it smaller than head high. It was rideable on the biggest swell of the year with 20 ft. faces and a handful of locals charging it. Sunzal is a fun long right-hander, a bit mushy, but a great beginner to intermediate wave and longboarding wave. Ride of over 200 yards are not uncommon. La Bocana is also very close to El Tunco. Bocana is generally considered a locals only wave.
The area has an abundance of waves. Punta Roca is the world-class right hander in La Libertad harbor. The wave itself lives up to the reputation, but the locals there are a bit surly and not very accommodating. If you're patient you can score a few to yourself, but I didn't find it to be worth the hassle. I surfed Punta Roca on the south swell of the season in April of 2007. It held the size very well at 12-15 ft. The biggest sets still reeled and barreled down the reef, but there generally no takers at this size. West of El Tunco is El Zonte, K59, and Mizata. Zonte is a great wave, faster than Sunzal and long, it offered clean sections and a fast inside section. Just past the point on Zonte is a good fast left hander that offers a welcome change to the right-hand points. K59 is a similar right handed point to Zonte.
El Zonte seemed to be the last small village on the coast. K59 is another 15 minutes drive. At K59, there's a café at the overlook, but to surf you have to park at a small house, pay the owner, and wander down a small path to the break. Mizata would be difficult to find without a guide or very good directions.
Punta Mango in the East is another world-class wave similar to Punta Roca with probably a longer hollow section. The only access to Punta Mango is by boat.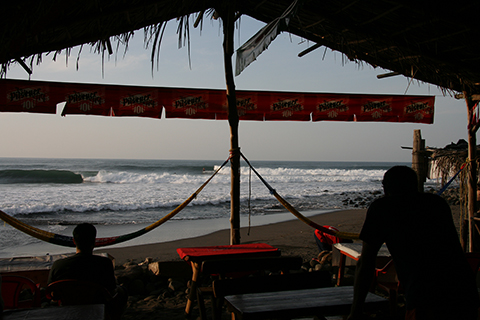 Crowds: The only breaks that were crowded were Punta Roca and El Sunzal, although there were plenty of beginners at Sunzal who stayed on the inside. The remaining breaks get less and less crowded the further west you head from La Libertad. El Zonte and K59 are nearly empty most of the time. Offseason you're likely to have the place to yourself. Punta Mango in the East is only boat access and stays relatively uncrowded.
Accomodations:
Casa Del Mar (at El Sunzal) – High End
Esencia Nativa (at El Zonte) – Moderate
Casa Guitarra (El Sunzal) – Moderate
Papaya's (El Tunco) – Very cheap ($8/night)
Eats: The local specialty are pupusa's, fried tortillas stuffed with beans and pork. They are simple, ridiculously cheap ($0.35/piece), and good. Food in El Tunco is very good, Erica's the local restaurant with good basic dishes (chicken, fish, etc.) for very cheap as well. The hotels all have their own restaurants as well.
Sights: There are many beaches around El Tunco, they are generally black-sand. A trip into La Libertad to the fish market on the pier is well worth it. San Salvador also has a fun nightlife.
Lonely Planet recommendations
Nightlife: El Tunco is a very small village. It's a great place to hang out and get beers with fellow surfers and locals at Erica's; but don't expect lively nightlife. San Salvador has a fun nightlife, but is an hour taxi ride away. If you have a rental car, it's recommended you do not take it into San Salvador. The city has dangerous neighborhoods and you should stay in well established safe neighborhoods.