Apr 15 2008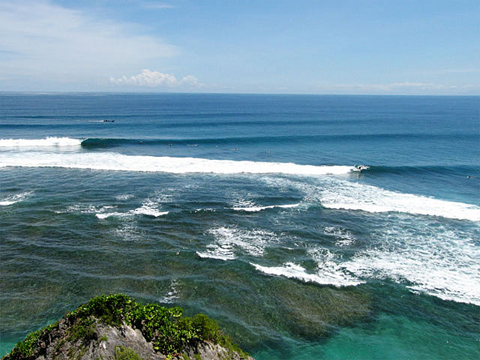 Bali has hit the surf spotlight hard in the last couple years and for good reason. From April through September it has consistent clean swell with good wind conditions (offshore at most breaks) and epic waves like Uluwatu and Padang Padang. It's become the Hawaii of the summer months. Kuta has a fun nightlife and is incredibly cheap. The Balinese are friendly, welcoming people. Balinese locals have been competing on the international level for over a decade. Kuta Beach is packed surf schools and surf shops. If you're heading to other parts of Indonesia for surf, then Bali is the requisite jumping off point. You can indulge in amazing food, parties, and massages before the jungle camps at G-Land or a surf charter in the Mentawais. Additionally, Bali has a rich culture with beautiful temples and scenery. The surf, culture, and lively nightlife make Bali one of the top surf destinations in the world.
Destination: Bali, Indonesia
Time of Year: April through September
Breaks: Uluwatu, Kuta Beach, Padang Padang, Nusa Dua, Medewi
Level: All levels
Cost: Inexpensive
[youtube GSPVpT0Pg5I]

Getting there: It's not a short flight from the U.S. (15 hours through Singapore, Japan, or Korea). Flights from the U.S. average $1200 though can find flights as cheap as $900. While on Bali everything is cheap. Car rentals start at $20/day and scooter rentals are about $3/day and some include a rack for your board.
Breaks: Uluwatu and Padang Padang are by far the most famous breaks on Bali. Both are world class waves and very crowded. When they're firing, it can be very difficult to get a wave. There are multiple camps and accommodations at Uluwatu. It's worth it to stay there if you're serious about surfing Uluwatu (it's 30-40 from Kuta by car or scooter). Although the shape isn't as good, it's easier to score waves at Uluwatu on a high tide. Padang breaks only on bigger swells and you've got a similar chance of scoring an empty Padang barrel as you would one at Pipeline. The Bukit Pennisula also has a few more waves including Nusa Dua (a fast barreling right) and Impossibles (generally uncrowded, fast wave, but also lives up to its reputation and is rarely makeable).
During my time on Bali, I opted to surf the less crowded waves including Airport Rights (Kuta Reef) and Canngu (West of Kuta Beach), both are excellent waves and offer a much less crowded scene than Uluwatu. To get to Airports, Middles and Kuta Reef, you pay a water taxi at the East end of Kuta Beach $1 to take you out. Airports is a good right with a short hollow section. Middles is very good wave, but needs more swell to break and is much shallower. Airports Left is an excellent swell that needs a lot of swell to go.
Kuta Bach and Seminyak have waves all up and down the beach of varying quality and shape. If you're persistent, you can get great surf on Kuta.
Two overlooked waves with hardly any crowds are Balian and Medewi. Balian is a two and half hour drive from Kuta and is a good right and left with decent shape. Medewi is a longer left point break another hour past Balian. Both can be done as days trips. There are also accommodations at Medewi to overnight.
Bali is an excellent jumping off point to world class waves on Java (G-Land), Lombok, Sumbawa, and the islands further East. It's easy to arrange for boat trips and accommodations to surf G-Land or the breaks to the East.
Crowds: Surfers come to Bali from all over the world to surf the world class waves. Scoring one barrel at Uluwatu can be worth the trip, but you'll probably want another one. Be prepared to deal with heavy crowds and very good local surfers at spots like Uluwatu, Nusa Dua, and other excellent waves. Unless you're an aspiring pro yourself, you can write-off surfing Padang (it's Pipeline heavy with just as heavy a line-up). If heavy barrels are your thing you're better off in terms of crowds at G-Land or on spots on Lombok where there are bigger take off zones and fewer locals.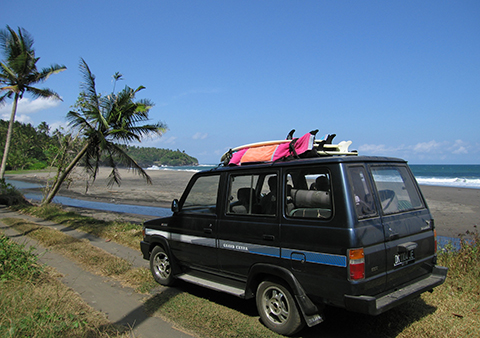 Accommodations: Kuta is backpacker central with very cheap hostels and hotels ($15/night gets an excellent clean room with AC and hotel pool). Seminyak offers a more upscale scene with slightly more expensive accommodations ($30-60/night gets three star accommodations on the beach with pool and gardens). Additionally, there are multiple options the Bukit to stay within walking distance to Uluwatu.
Eats: Noodle shops are everywhere. For $2, you can get a plate of Nasi Goreng or Gado Gado. Kuta offers all types of different foods. Seminyak has more options but is generally more expensive.
Nightlife: Kuta and Seminyak have a range of bars and clubs. The place goes off, and you might be finding it difficult hitting dawn patrol. There's a great DJ music scene with music every night. Some of the clubs stay until dawn.
When the surf's flat: Bali has world-class diving, again it's easy to arrange once you're there. The Gili Islands are off Lombok and a short flight or boat ride. Very cool scene that can be an escape from hectic and touristy Kuta with excellent diving. Nusa Lembongan is off the Eastern coast of Bali with excellent diving and several good surf breaks. Ubud, the artist village in the hills, is stunning and worth a day trip. White water rafting and the volcano are both worth exploring.
Don't miss: The Balianese board repair guys are absolute magicians! Bring your most beat up stick over there and they'll have it looking brand new for $20!