May 08 2008
I just got back from my 10 day trip to Guerrero (North of Zihuatanejo and Ixtapa) and Michoacan. We scored two solid swells down there and great waves all around. It was an easy trip from the West Coast (Alaska has direct flights from LAX to Zihuatanejo and last minute fares were cheap ($450). There's plenty of good breaks down there (favoring the goofy foot though) with good swell exposure. Winds generally picked up late morning, but did not always blow out the surf and many afternoons were still surfable. Don't expect to partying until dawn every night (or any night), but Zihuatanejo has an old-town charm and there's incredible fishing up and down the coast. North of Zihuatenajo there's hardly anything on the coast at all except a few fishing villages. Overall, the area is a great area to plan a trip or to score last minute waves.


Destination: Guerrero and Michoacan, Mexico (Zihuatenajo, Ixtapa, and Troncones)
Time of Year: April to September
Breaks: Manzanillo Bay, La Saladita, El Rancho
Level: All levels
Cost: Inexpensive
Getting there: We flew into Zihuatanejo and stayed in the chill beach village, Troncones. Troncones has a couple of options for surf including a long beach break, the point at Manzanillo Bay (left point), and Majahua (left point). Troncones is about 45 minutes north of Zihuatanejo and Ixtapa. Zihuatanejo has an old-town charm. Ixtapa is a modern Mexican resort town. Troncones is a convenient place to stay, putting you closer to the waves at La Saladita and El Rancho.
Past Troncones, are a few decent out of the way breaks. If you're headed to surf Pasquales, you may consider flying to Manzanillo instead (different from Manzanillo Bay in Troncones).
Breaks: Troncones has decent surf, although probably not the type of surf you came to Mexico for. La Saladita is about 20 minutes drive from Troncones. It's an epically long wave though on the softer side – ideal for a fish or longboard. In fact, you'll find plenty of longboarders out in the line-up. It takes the swell smaller than El Rancho, so if El Rancho is maxing out, expect everyone to be out at Saladita. El Rancho is another 20-30 minutes north of Saladita. Although you don't need a 4×4 to get to El Rancho, it's recommended in the wet season. The road is in pretty bad shape. El Rancho is a fast long left that can get hollow on the right swell.
North of El Rancho, the breaks get less crowded.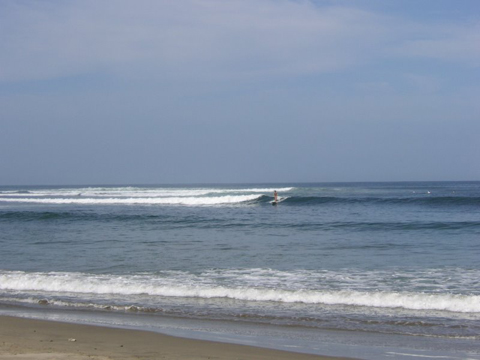 Accommodations: Troncones is a great place to be based out of. It has a market, a beautiful beach, internet, a yoga retreat center, massage, and pretty much everything you would want on a surf trip. There are some accommodations at La Saladita, and there are no accommodations at El Rancho.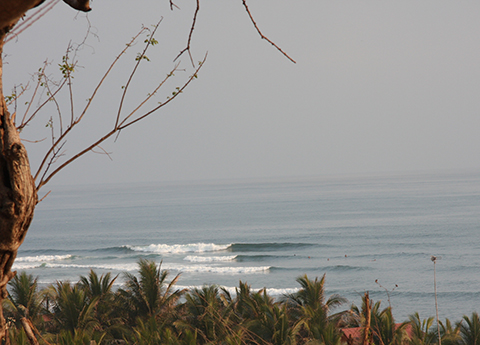 Troncones:
Burro Borracho (cheap accommodations, excellent restaurant) (link)
Mi Casa Es Su Casa (mid-range, pool, AC) (link)
Casa Manzanillo (expensive, pool, AC, on Manzanillo Bay) (link)
Inn at Manzanillo Bay (expensive, pool, at Manzanillo Point) (link)
A list of more hotels in Troncones (link)
I would not recommend staying at the Troncones Point Surf Club. Pick a place by the water on the beach in Troncones or on Manzanillo Bay (walking distance from the point wave there). Locations not on the water are brutally hot in the afternoon and evening because of the lack of seabreeze.
Directions and accomodations (link)
Eats: Burro Borracho, Cafe Del Sol, Inn at Manzanillo Bay
Nightlife: None in Troncones, Bars and clubs in Zihuatanejo and Ixtapa, although I prefer Ixtapa.
When the Surf's Flat: Fish, yoga and massage (link)
Don't Miss: Tortilla soup at Burro Borracho
Unfortunately, right after I left Trocnones, a San Francisco surfer, Adrian Ruiz, died of a fatal shark attack at Troncones. I want to express my condolences to his family for their loss. As surprised as I was at the attack, what's more surprising is how unusual it was. Shark attacks are very rare in Mexico (2006 only had one attack). David Connell, resident, surfer and owner of Casa Manzanillo, posted this regarding the attack (click here).