Jun 09 2008
I must have read my first article of the promised Ron Jon Surf Park probably in 2003 in Surfer Magazine. They touted the park as right around the corner and the first of many to come. First Orlando, then every other city in the country. We'd be surfing at night, getting a guaranteed 12 waves an hour, and picking between long rolling point waves and getting shacked in a pool. Ron Jon where have been?!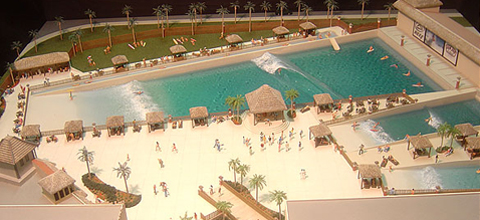 The Surfpark in Orlando touted new technology that would produce a more powerful, longer, and consistent wave that could be altered to different shapes including the elusive tube.  There wasn't a dissenting voice among the surfing public. But since then, we haven't heard anything. I did some digging on the Surf Park website and found a recent change of plans and another vague time-line.
In February they announced redesigns  that include a two phase development. First would come a smaller wave pool with rides of 30-40 yards and then a second larger wave pool with larger waves and longer rides (6-8 foot waves and 60-80 yard long rides). They don't give specific dates.
In the meantime,  a guy named Steve Jones is promising a wave park in London by 2011. So Ron Jon, give us some dates! We're dreaming of chlorine barrels.