Jun 19 2008

Destination: Florianopolis, Brazil
Time of Year: March – September
Breaks: Campeche, Praia Joaquina, Praia Mole, Barra da Logoa, Praia Riozinho
Level: All levels
Cost: Inexpensive – Moderate
Intro: Ah Brazil, a country with seemingly more similarities to the U.S than differences and home to surf culture second only to the United States. The beach is a way of life in Brazil, and they're blessed with thousands of beautiful miles of it. They're also blessed with thousands of other things.
Florianopolis is a peninsula in the Southern Brazil with excellent exposure to Southern Swell and dozens of beaconing beach breaks (42 beaches in all). The beaches of Florianopolis are some of most beautiful in Brazil. Brazilians have a reputation for being aggressive in the water but with miles and miles of beach breaks, you'll see their welcoming and friendly side. And with dozens of clubs, you see the other side of Brazilian beach culture.
Through the summer months, you won't need anything more than a shortie and trunks will be fine for most of the time. After March though the water and air cools off and you'll want a 3/2 fullsuit. Surf is small for the summer months, but picks up after March. Though it rarely gets big, standard short board will suffice for most days.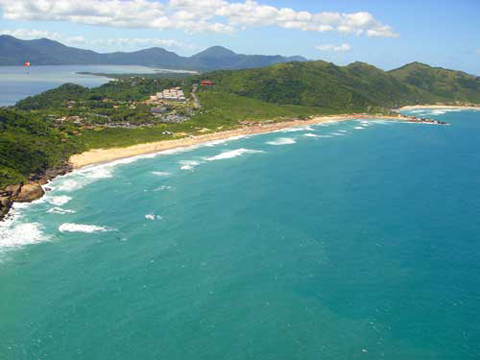 Getting there: Flights are reasonable $600-800 in the off season (after February and before December). Expect to pay more during the peak season (December – February) when the beaches swarm with crowds during the warm Brazilians summer months marked by New Years and Carnival. If you do go during December and February, don't expect too much in terms of surf because of small waves and late parties.
Arriving in Sao Paulo or Rio de Janeiro, Florianopolis is a short one and half hour flight. Spend a day or two in Sao Paulo or Rio on your way down. Rio has it's share of surf, but expect serious crowds and hassling for waves.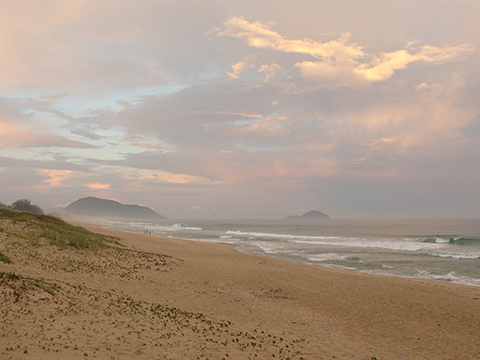 Breaks: Florianopolis is a peninsula surrounded by beaches, most of which have decent surf. The best breaks are along the East exposed to the Atlantic and the Southern Swell of Brazilian winter. Campeche, Joaquina, Mole, Riozinho are the best known beach breaks with the easiest access, but also the most crowded (Joaquina and Mole host the annual WCT contest in October). Mocambique and Lagoinha de Leste are less accessible but offer great beach break waves. Praia Mole has a great surf scene with beach bars and clubs playing music all through the day in the summer months.
Crowds: The popular breaks can get crowds but with beaches around every corner, it's not hard to find an empty spot.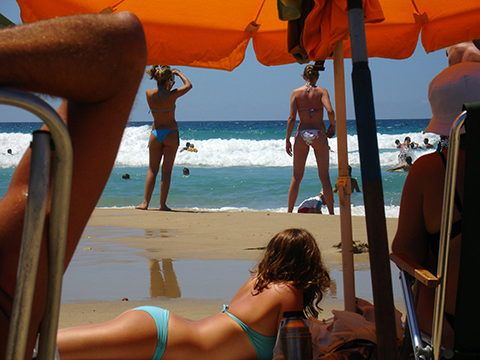 Accommodations: Staying in and around Praia Mole and by the Lagoa will provide you with the best and quickest access to surf on the island. Accommodations of all prices are available from hostels to high end hotels and vacation rentals. The Lagoa has a tons of restaurants and lively nightlife, but the biggest and best clubs are downtown.
Nexus Surf provides excellent higher end accommodations and they are recommended surf and cultural guides.
Eats: The food in Brazil is very diverse with everything from sushi to BBQ. You can find tons of good restaurants wandering down by the Lagoa or in downtown Floripa. Brazilians love their meat and buffets. Check out a Churrascaria, Brazilian all you can BBQ. They feed you roasted meat until you can't move. Perfect pre-club dinner.
Here's a longer list of good eats.
Nightlife: Nightlife in Florianopolis is half of what you come for. During the summer months clubs like El Divino fill up with thousands everynight! Don't arrive before 12 AM, Brazilians run on their own time. The Lagoa has a more lay back scene of bars. Downtown has a row of nightclubs.
When the Surf's Flat: You can kiteboard in the Lagoa and sandboard the dunes by Praia Joaquina.
Don't Miss: Bar Do Arante-best seafood on the island–located at the southernmost part of the island, at a beach called Pantano do Sul.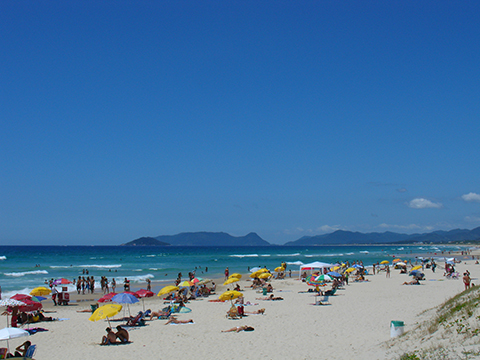 [youtube oecojBAYds4]