Jul 09 2008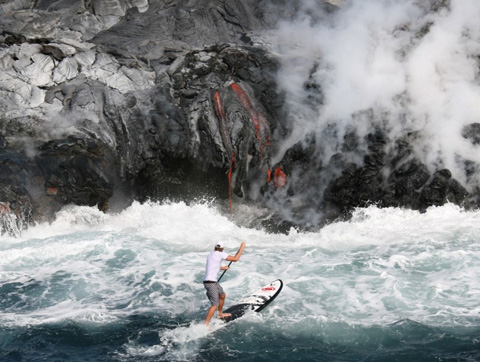 Surfers have a history of challenging mother nature and her fiercest side. Its enabled surfing to progress from its roots of surfing Waikiki to charging 80 ft waves at Jaws. So some of us won't be surprised by the images of Hawaiian surfer, C J Kanuha, paddling up to the point where spewing molten lava meets the sea on the Big Island of Hawaii. The Volcano, Kilauea, meaning 'much spreading', has been continually erupting in Hawaii since 1983, but more molten rock than usual is flowing from an outbreak that started last November. The lava eventually reaches the ocean on the east side of the big island and flows into the sea boiling the surrounding water.
CJ paddled up to the area where the lava was flowing into the sea and got within 20 ft of the molten lava. At that point, the water, close to boiling, began melting the wax on his board and burning his feet. CJ calmly paddled his board back out and away from the lava. Only a surfer knows the feeling…
Nice work CJ, wouldn't a canoe have worked also?
Check out the article at the Daily Mail for spectacular photos of the lava.