Jul 14 2008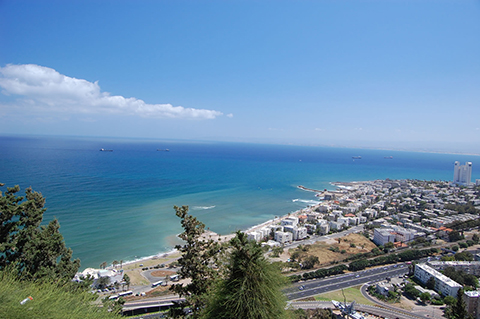 I'm not sure I would substitute Israel for your next surf trip to Central America, but Israel does get consistent waves. From December to March, exposed beaches get hit with regular storms blowing off the surprisingly long fetch of the Mediterranean. Epic uncrowded waves? Unlikely. Fun surf in remarkable and unique surroundings? Absolutely. Lori from the Surfing Village shares info on surfing in the Holy Land, in particular surfing in Haifa, the stunning city in the North of Israel with Israel's best waves.
The Surfers' Beach in Bat Galim is a unique beach in terms of wind and water components. This is the only beach in the country that faces north and provides western winds opposite the coastline, while the Carmel top descends to the sea and strengthens the winds. It is not just a mere local beach for surfers, but one of the best beaches for surfing in the Middle East, and some say in Europe.
The Carmel Ridge comes to a steep end over the beachfront, creating a ventilation effect resulting in the formation of a great wall, also facing northwest. As a result, the wind velocity increases once it reaches Bat Galim Beach. The wind arrives from the South West, hits the Carmel Shoulder, amplified by the ventilation effect and creates surfing conditions unparalleled to other regional beaches. In addition, the unique bottom structure of the beach helps form waves that begin breaking some 100 meters away from the beach line.
The beach was home to several international surfing tournaments, out of which emerged the European and World Champion, Arnon Dagan. It also serves as a training location for other Israeli surfing champions.
Here's a link to Wannasurf.com info on the breaks in Israel.
Written by Lori of thesurfingvillage.com
[youtube EZT7ErBYYr0]