Jul 15 2008
Everyone's looking for the new Costa Rica to find their patch of beach to build a bungalow and their perfect wave out front. First there was Costa Rica, now Panama and Nicaragua. Scott Balogh of  Red Frog Bungalows writes on Bocas Del Toro, the stunning, uncrowded islands on the Caribbean side of Panama with epic surf and beautiful turqoise barrel. The crowds haven't yet arrived and land is still available. It's close to the U.S., cheap, and is going off when the rest of the tropics are flat (December to March, June to July).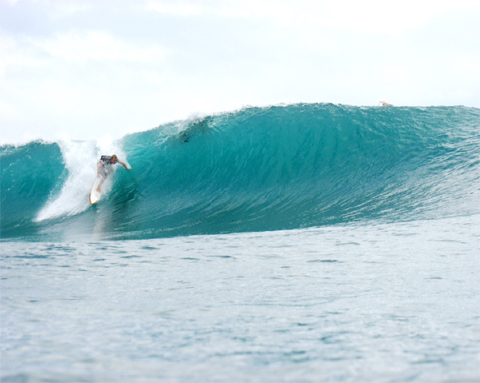 Location: Bocas Del Toro is located on the Carribean side of Panama 20 miles south of the border with Costa Rica. This area in the northeastern tip of Panama is comprised of over 100 small islands mangrove inlets and cays. Home to Chiquita Bananas over 100 years ago, the main source of income these days is tourism. Bocas Del Toro is famous for its pristime white sand beaches, world class surf, and nightlife. Most of the bars and restaurants are located over the water which makes it a very unique vacation destination. Travelling throughout Panama is fairly easy because English is widely spoken in the area and the U.S. dollar is the Panamanian currency.
Time of Year: December-April, June-July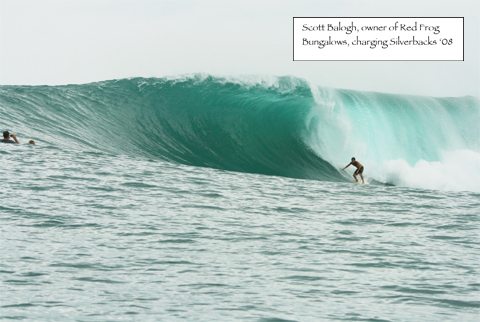 Surf: The Surf in Bocas can be world class. There are 12 great spots within 20 minutes in our boat from Red Frog Bungalows. It is possible to find favorable wind conditions during any swell. There is a combination of beach breaks, point breaks, and reef breaks. During the winter, with the right swell direction Bocas can hold the largest surf in Latin America. Scott Balogh, owner of Red Frog Bungalows, is the only local surf Silverbacks regularly (wave pictured). It can get hollow and heavy. This year Scott guided Matt Archibald and Team RVCA around Bocas and they were blown away at the consistancy, variety and quality of the waves.
Breaks: Bluff, Dumpers, Paunch, Tiger Tails, Black Rock, Carenero, Pantai, Silverbacks, Wizards, Backyards, Playa Larga, Cayo Agua, Cusapin, Zapatilla
Levels: All Levels
Cost: Inexpensive to Moderate
After Hours: There is plenty of partying in Bocas. Nonstop Reggae music in town, cheap drinks, and friendly locals make for long nights and hazy mornings. Thank goodness the wind is never to strong so you can sleep in and not miss too much surf. Plan on it if you come to Bocas. Best Bar…La Iguana Bar
Places to stay: Red Frog Bungalows! www.redfrogbungalows.com  The owners at Red Frog Bungalows are all from Hawaii and understand big quality surf. They have years of experience in Bocas. If you are a serious surfer and are looking to get the best surf everyday contact Scott Balogh at (808) 757-0756. The Bungalows were built in Bali and rebuilt on the beach in Bocas. The resort is solar powered and they use composting toilets and spring fed filtered water. They have created a small Eco-surf Resort with very little impact on the environment.