Jul 15 2008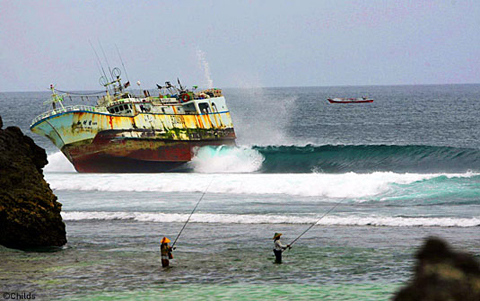 The notorious Tawainese longliner fishing boat, Ho Tsai Fa No. 18, ran aground on the reef at Padang Padang in Bali, Indonesia at 7PM on Friday night – just in time for opening day of the highly anticipated Rip Curl Padang Cup event the following morning.
"The whole surf community is pretty concerned about the boat as it's leaking fuel," said Rip Curl's Andy Higgins. "With a swell arriving on Friday afternoon, it could break open. So apart from the fact that this could make running our events—the Rip Curl Padang Cup & Rip Curl Pro Search—there impossible, it poses a big threat environmentally as well. Either way, it's on the top of our 'to do' list until we find an appropriate solution."
Taiwanese authorities had been seeking assistance from the Indonesian government to find this boat well known for illegal fishing practices that's been missing since May 13, 2008. Taiwanese skipper Tsai Wen-chen and approximately 16 Indonesian crewmen were on board when it went missing.
From Solspot.com
Check the video of surfers riding Padang by the boat.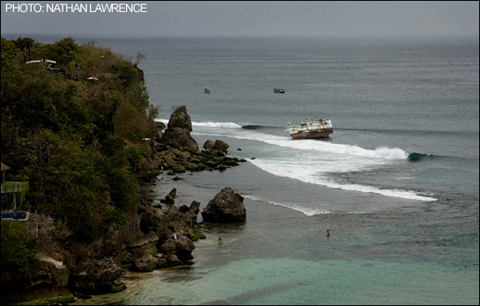 Update from CoastalWatch:
The boat has settled on a much more precarious looking angle today, and it's starting to leak a fair bit of diesel. In fact the whole area around it reeks of diesel. The local ladies on the beach are not too stoked… lucky the wind is offshore, but a bit of swell could bring it in. I don't think it's gonna take too much to tip it over… there's hardly any swell now but the biggest sets are rocking it in a very sketchy looking way. If it tips it's gonna be a massive environmental stuff up.
Looting has kicked into overdrive and so far it doesn't really seem like any effort is going to be made to get this thing off the reef. It's slowly being dismantled on site and anything of value is being taken. There's people all over it and around it. The load of fish has been cleaned out, now crew are taking petty containers, tanks, radio gear etc. A lifeguard came past proudly holding the steering wheel and I was like no way, this thing isn't going anywhere, ever.
You can't help assuming that it's starting to look like it could become a permanent feature of Padang Padang.
Even if they did want to get it off, there's no real big tides until Friday, when some swell is supposed to kick in as well. If no-one gets it's off the reef by then it's gonna get smashed back to Taiwan. Let's hope it doesn't get smashed square into the lineup.