Jul 21 2008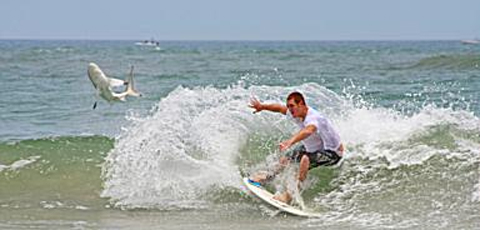 An amateur photographer, Kem McNair, caught a photo of a Blacktip "Spinner" Shark catching some air sharing a wave with a surfer.
Kem McNair, who had finished surfing at New Smyrna Beach, Florida, before taking three images of the shark, shot in under a second, said: "I saw something in the background and I thought, 'What was that?'. I looked back at the display on my camera and there it was — a spinner shark."
Blacktip sharks, known as spinners because of their habit of leaping out of the water, are common in the shallow coastal waters and estuaries of Florida. The majority of shark bites in the state are blamed on the species and New Smyrna beach is notorious for attacks, this year the toll has already reached twelve.
"We see them all the time," says McNair of the 6ft specimen he captured on film, " if you ride a wave and the water is clear you may see two or three sharks in the length of one ride…"
Interestingly enough, New Smyrna Beach is ranked as one of the worst in the world for shark attacks. And it's those Spinner sharks that are most likely to come in for a taste…
Here's a link to McNair's site with the three photo sequence of the shark jumping.