Aug 07 2008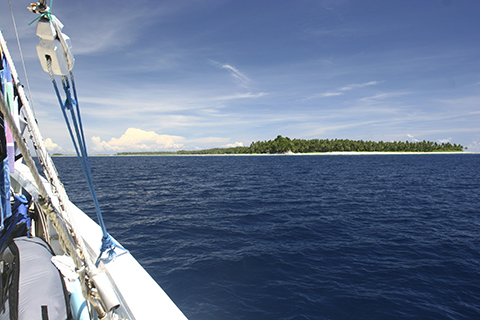 I recently published my account of a surf trip to Northern Sumatra aboard the Mikumba run by Sumatra Surfariis, a great charter operator for Indonesia, in Everywhere Magazine. Everywhere Magazine is part of 8020 publishing that also publishes the photo-focused magazine JPG Magazine, filled with user submitted and voted on content. They're both great magazines, check them out. Here's the full pubished account below (link to story an Everywhere Magazine). Check out my photos at JPG Magazine. Incidently, the photo at the header of this blog is from this boat trip to Northern Sumatra without a doubt one of the last great unexplored areas of surfing. Unlike the Mentawais, there are only a few charters that operate in the area.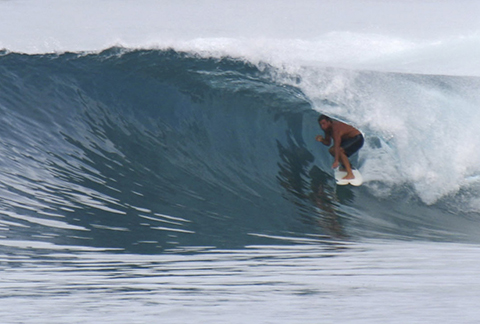 Points North – Surf Exploration in Northern Sumatra
We plan for months. My packing list is two pages long. There are of eight of us, surfers traveling from New York, California, and Hong Kong. We are embarking on a two week excursion on a converted Indonesian freight boat to remote tropical islands to explore and surf. We are going to surf waves that most surfers only see in magazines and videos and will have these waves to ourselves.
We start in Sibolga, Northern Sumatra, Indonesia after over 30 hours of flights and an overland trip across Sumatra. Sibolga is the last port before Banda Aceh, the northern most province of Sumatra and the one hit heaviest in the 2004 Tsunami. From the dirty anonymous port, we chart a course west. The islands where we will be searching for surf are so obscure and unexplored that after the 2004 Tsunami the Indonesian government relied on the help of the handful of surf charter operators in the area to chart courses to the isolated villages to bring relief supplies.
[Continued after the break]
Our boat, the Mikumba—a sturdy, 80 ft, wooden, converted freighter—lacks luxurious accommodations, but she makes up for it in space. There are two open decks above the main deck affording us a comfortable place to take in the stunning coastline. The crew cooks, cleans, and works hard at keeping her in shape. The engineer of the crew spends the night in the hot, stuffy, loud engine crawl space to make sure the engines don't fail under passage.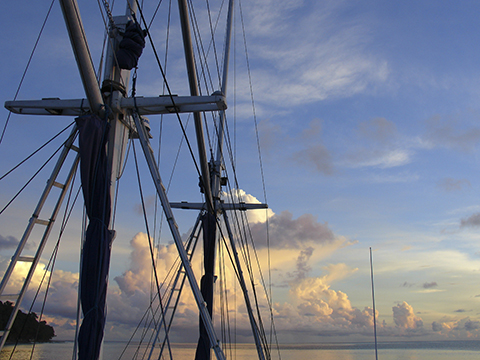 Our energized young guide, AK, relates the story of a surf break in the area called HI's or "Head Injuries." Surfers name the break after the captain of another surf charter fell on a big wave and came up with a large chunk of coral embedded in his skull from the shallow reef. The message is clear: though beautiful, these waves have real consequences and help is a long way off.
30 years ago surfers first started exploring the area. In 1975, three adventurous surfers hacked their way through the jungle on the island of Nias and discovered what would become the world-class surf break at Lagundri Bay. They stumbled upon every surfers' dream: a beautiful, secluded, unknown surfbreak. Nias at the time was untouched by exploration. The jungle harbored dangerous malaria and indigenous tribes still practicing cannibalism. Their discovery of the wave opened a gateway that would change surfing; however, it came at a cost as one of the three adventurers died shortly afterwards of malaria.
Word soon got out of the wave at Lagundri Bay, and rumors spread of waves better than anything anyone has imagined in the islands south of Nias—the Mentawais. Intrepid surfers started exploring these islands by hiring rickety local fishing boats. Sleeping on planks and eating rice, they would spend weeks at sea for the chance to surf the best waves in the world and discover new ones. Eventually, a nascent surf charter industry built up around exploring these islands. What started with fishing boats became a competitive industry complete with luxury charters and over 60 boats competing for surfers' business. Now there are a half-dozen land camps on the Mentawais, hundreds of documented and surfed waves, and legal battles over the rights to these waves.
Because of the open-ocean crossings and exposure to heavy swells and currents, exploring the islands to the North of Nias requires larger, more seaworthy boats. This means that only a few companies operate charters to "the North." We encounter few boats or fisherman as we explore hundreds of miles of coast. Destruction from the 2004 earthquake and subsequent tsunami is evident everywhere. The earthquake caused massive uplift in some areas, up to 15 ft on some reefs.
On our fifth day, we find out first hand why only the sturdiest of surf charters makes their way up this far north. An afternoon squall turns into a storm. 10 ft waves pound the Mikumba at anchorage tossing her bow violently up and down. The captain and crew walk about restless and uneasy. We do everything we can to avoid getting seasick.
The storm abates by daybreak, and already we are motoring again in search of surf. Though no one slept much, the crew and our guide seem unaffected by storm. It's clear now why the engineer of the crew sleeps in the engine room: there's no one to help us if we founder.
The swell finally arrives. We wake up at dawn at a renowned surf break, a "secret spot" our guides insists that we keep unnamed. We are mesmerized by surf perfection. Waves start more than a mile out from our anchorage, open up wide on the shallow reef in a blue barrel and reel across it in beautiful groomed lines. There are few waves in the world that break with this consistency and length.
For the next two days we surf until we can't any more. The wave has broken two of our boards and torn the fins off of two others. We've been spun on wipe-outs to the point of not knowing up from down and been dragged across the sharp reef. We are sunburned, chafed, and exhausted. By the time the swell subsides, we're too spent to surf anymore. It's everything we've traveled across the world for.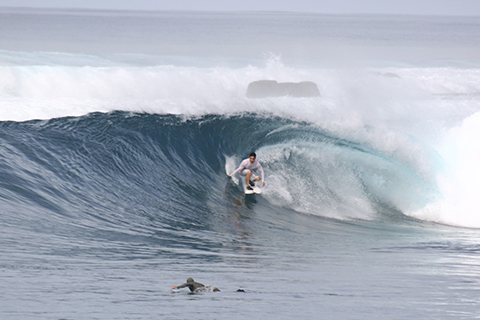 The swell fades and we motor south. The next day we surf a break in front of a tiny fishing village on Nias. As we surf, a crowd of locals gather on the beach in front of the wave. The children shout and cheers us on. The spectacle of foreign surfers dancing across waves in front of their homes is as exotic and exciting to them as it is for us to surf here.
We explore an island without surf. Populated by just a few fisherman, the island is stunning and pristine. We snorkel out in the current and watch a torrent of tropical reef fish of all colors swim below us. I've never seen a reef so alive. There's nothing between us and Antarctica thousands of miles to the South, just open ocean and long lines of inexorable swell.
On our last night, our cook prepares a feast of lobster bought from the local fisherman. Clouds ring the horizon, and the sun seems to set everywhere in fiery colors of exuberance. We eat on the top deck of the boat looking out on hundreds of miles of open ocean and all begin planning our return.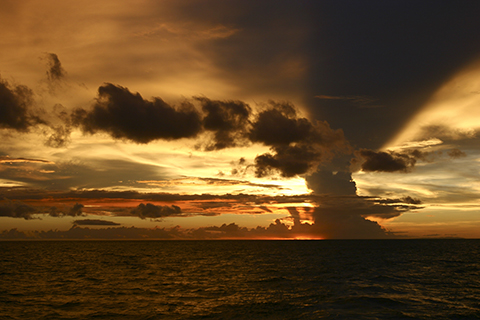 More photos from the trip below: