Aug 25 2008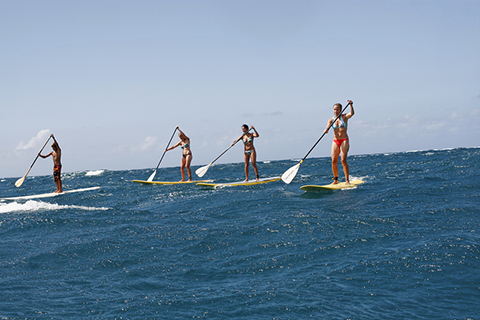 There's no question Stand up paddle surfing is about to go mainstream. Board prices have come down significantly and its becoming more and more visible. USA Today has an article that talks about Laird Hamilton's involvement and promoting the sport. What's becoming apparent of the sport is that is has the potential to be a true mainstream sport and accessible to a huge range of people that wouldn't have considering surfing. Here's a link that talks about SUP in lakes and rivers. The USA Today quotes Laird Hamilton as saying that SUP "will be bigger than surfing."
I tried Stand up paddle surfing (SUP) last week for the first time  and was pretty impressed. I got up cruised around a bit in fairly choppy water at Sunset and made a weak attempt at paddling into a wave. What was more impressive was watching a friend of mine, a girl who's been learning surfing for a few months, stand up on the board and blaze back and forth on the thing. SUP have the huge advantage for lighter surfers. So while I was struggling a bit, Cristina was cruising along effortlessly. Not surprisingly, she loved it.
It was seeing that and hearing about another friend of mine, also new to surfing, getting hooked on SUP that made me see the real future in the sport. I've tried to teach dozens of friends of mine to surf. Usually they go out once or twice, maybe catch some whitewater, then later get frustrated by the crowds and how difficult it really is to catch a wave in most places. It's completely discouraging sport to learn anytime after you're 20 years old.
SUP is relatively easy to learn and people can appreciate a lot of aspects of surfing without hassling with crowds, learning new surf breaks, and getting worn out just paddling the board out. Just paddling around on the board is fun, and likely to get more people who weren't likely to stick with surfing to do it.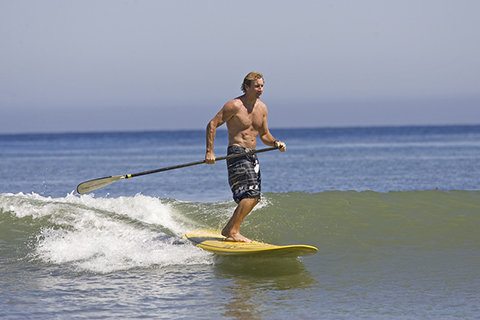 SUP does have a few drawbacks. It's currently expensive to get a set-up ($1200-1500 for the board and $300-500 for the paddle). It's a bitch to haul the stuff down to the beach especially for lighter surfers. And it's definitely going to cause some tension in the line-ups.  In spite of these draw-backs, I believe it can have true mass appeal. As more people give it a try, more people will be out enjoying surfing and the ocean and hopefully supporting the causes most important to surfers like clean water, protection of threatened breaks, and protection of marine life. The risk of dozens of SUP surfers crowding line-ups exists, but surfing has always policed itself. The beauty of SUP is how it enables surfers to take in the surroundings and appreciate a view point other than inches from the water. SUP surfer can also cover a lot of ground relatively easily, so hopefully a lot of them will be surfing in area out of the way and more difficult to get to.
Garrett McNamara at Pipeline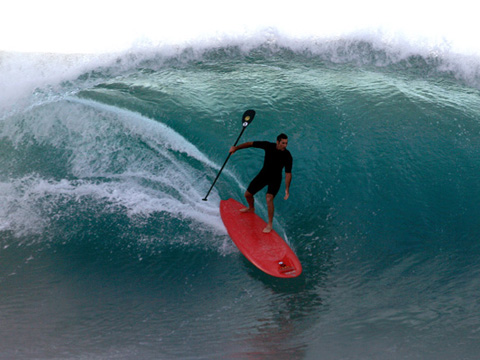 [youtube QNo8HVX9O_g]