Sep 09 2008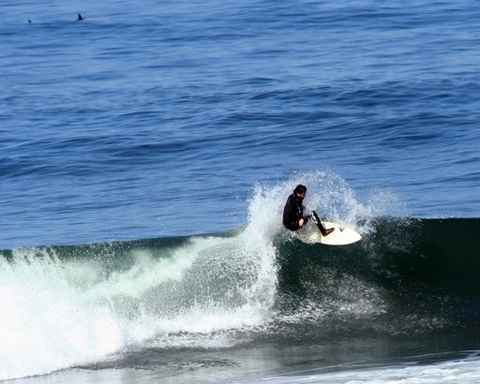 Here's a photo from a couple days ago of a surfer blasting the top of a wave at glassy, beautiful Ocean Beach, San Francisco… oh wait, there's a fin in the background?!
Ocean Beach, San Francisco is in the Red Triangle, or in case you haven't heard is one of the sharkiest places in the world. There have been a slew of recent great white sightings at Ocean Beach and Stinson Beach, further north in Marin. Stinson Beach was closed over Labor Day Weekend because of shark sightings.
Check out all the latest shark news on Surftherenow.com here.
See Other Top Posts:
Most Amazing Photos You'll Ever See of Waves
Diver Fights and Kills 12 ft. Tiger Shark (Photos)
Your Chances of Dying of a Shark Attack – Pretty Slim
Incredible HD Footage of Surfer in the Barrel