Sep 10 2008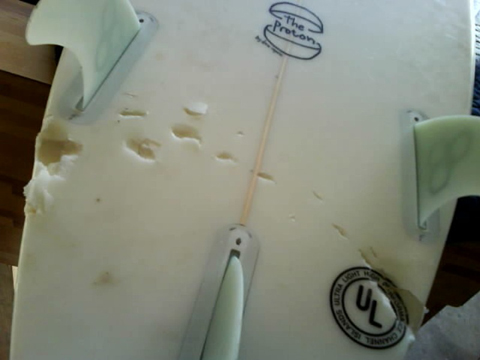 Two surfers have been attacked by sharks in the past week. The photo above is of a surfer's board in Lompoc, CA north of Santa Barbara. Kyle was surfing Surfer's Beach and saw a Great White Shark circling him! He got off his board and used it as a shield, fins out, between him and the shark. The shark chomped the board and left a reminder of what Great Whites can do. Researchers are estimating it to be a Great White between 14-16 ft in length. The pictures are unbelievable.
There was also an attack in Kaaawa, Hawaii on the east side of Oahu at Crouching Lion's.
"The shark attack happened at about 5 p.m. Tuesday about 300 yards offshore at a surf spot known as Crouching Lion. 40-year-old Todd Murashige told emergency officials he was sitting on his surfboard when he was attacked. Murashige paddled himself to shore accompanied by another surfer. He was taken to Queen's Medical Center in serious condition."
The injury to Murashige is reported to be serious. It is the second attack at Crouching Lion's in just over a year.