Oct 06 2008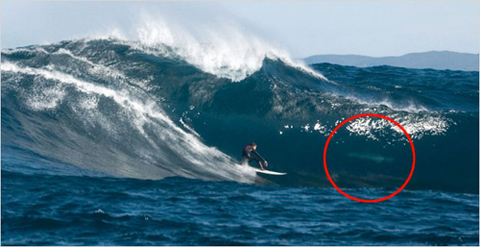 From the Surfers Village.
Fergal Smith, 21, was two miles off the coast of Perth in Western Australia when he caught a wave. Fergal, of County Mayo, Ireland, only realised he was inches from the shark when photographer Phil Gallagher showed him the photo.
Contributors to Australia's Surfing Life magazine awarded Fergal the "Euro surf-dude of the month" award. ASL website reads: "Just imagine being in the barrel and looking at a massive shark like you're at the bloody aquarium or something. Hats off to you Fergal Smith, you're our Euro surf-dude of the month."
Photographer Phil Gallagher, 29, from Perth, said: "Great Whites are common out here but I have never seen one that near to a surfer before." Fergal Smith said he "couldn't help but laugh" when he saw the photograph but added that his mother Brid, 51, had "freaked out big time". He added: "I saw a grey shape in the wave but I thought it was the reflection of a slab of rock – how wrong was I?"
Since 1876 Great White sharks have been responsible for 65 deaths and 242 recorded non-fatal attacks worldwide. Australia has had the most fatal Great White attacks in the world with 27 deaths, the most recent in 2005.

Check out all the latest shark news on Surftherenow.com here.