Oct 21 2008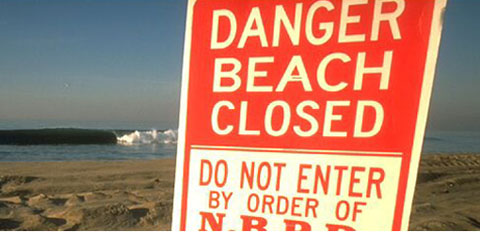 In 1999, California instituted state wide water quality monitoring at beaches to help ensure that the water is safe for water activities. It's a great feature of California environmental policy and model for other states.
California Governor Arnold Schwarzenegger has cut all funding (approximately $1 million per year) for beach water quality monitoring throughout the state. This sudden and unexpected action has gutted the country's most extensive and progressive beach water quality monitoring and public health notification program. As a result, San Diego County (who received the biggest share of the state funds) has already suspended their monitoring program and other coastal counties may soon follow suit.
Without regular beach monitoring, surfers, swimmers and other beach-goers will be completely in the dark about water quality at their beach. Essentially, a "swim or surf at your own risk" sign just went up all along the California coast.
California's beaches generate $14 billion in direct revenue. The elimination of $1 million in state funding for beach testing may have human health and economic impacts that far exceed the cost of the monitoring program.
Send a message today to tell Governor Schwarzenegger and your state legislators to restore funding for the state's beach water quality monitoring program and keep our beaches safe.
TAKE ACTION via Surfrider.