Nov 08 2008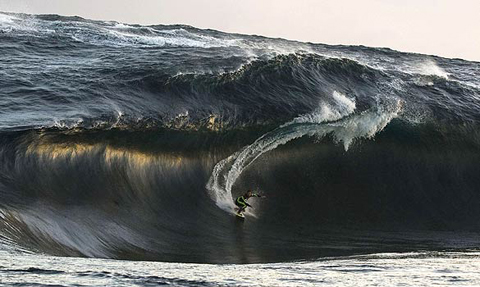 Photo: Andrew Buckley
25 year old Australian, Kerby Brown, rode the wave of his life on this 40 ft. monster in Western Australia (Times UK), followed shortly afterwards by the beating of his life. In spite of the fact that the wave was dry reefing, Kerby survived the wave with only a torn shoulder muscle.
The 25-year-old surfed the enormous break at an offshore reef in the Southern Ocean "somewhere between Margaret River and South Australia" on the southwest coast of Western Australia (WA) last August. Seems like there's been a lot more big wave searching and a lot more discoveries out in Western Australia. Funny how they keep the location of this macker a secret, I can't imagine that 20 tow teams are going to show up for this beast on the next swell.
Kerby on the wipe-out and hold down (Australia's Surfing Life) "I was lucky to get to where I got, I went straight over in the lip and did about 10 backflips and then pulled a muscle in my shoulder. It felt like I ripped my arm out of it's socket, my leggie snapped and then I felt like I was the deepest I'd ever been (underwater). I took about 10 huge big strokes to get up and I was seriously struggling. I finally got to the surface and I was ready to pass out, luckily my brother was there on the ski."
Not surprisingly, the wave is being submitted to the Oakley Australia Surfing Life Big Wave Awards. It's being touted as the largest wave surfed in Australia this year. Photo credit: Andrew Buckley (profile on Club of the Waves). Slideshow below, click here for full-frame slideshow.


Vimeo Slideshow

Kerby Brown Big Wave Awards Entry from Australia's Surfing Life on Vimeo.