Dec 22 2008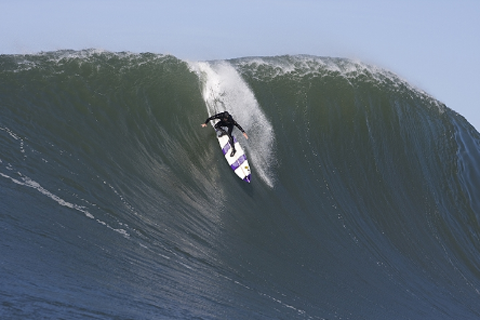 The future of the big-wave Mavericks Surf Competition (Half Moon Bay, CA) was in doubt when previous sponsors pulled out this year (article SFGate). Jim Beam bourbon and benefactors Moose Guen and Jane Sutherland of the private equity firm MVision couldn't pass on the opportunity to support the chance of the best big wave surfers in the world hucking themselves over 50 ft. ledges at the famed Northern California big wave surf spot. The total purse is $75,000 with $30,000 going to the winner. More at the official website Maverickssurf.com, including the list of invitees.
The Mavericks contest has always been the little brother of the more hyped Quicksilver Eddie Aikau held at Waimea Bay, Hawaii, in spite of both being big wave contests. The contestd are both held in similar conditions, although the Eddie requires 20 ft. Hawaiian Swell in order to be held and the Mavericks contest has been in held in smaller conditions. The invitee list is larger for the Eddie with a list of alternates and favors local Hawaiian surfers. The Mavericks contest leans toward local Northern California surfers like Grant Washburn, Ion Banner, and Tyler Smith. The following surfers made the invitee list to both contests: Jamie Sterling, Brock Little, Carlos Burle, Darryl Virosko, Greg Long, and Anthony Tasnick.
"The entry list includes the previous six contest winners: Darryl (Flea) Virostko, who won the first three (1999, 2000 and 2004); fellow Santa Cruz standout Anthony Tashnick (2005); South Africa's Grant (Twiggy) Baker (2006), and last year's champion, Greg Long, who is based in Southern California.
For a variety of reasons – notably the absence of ideal conditions – the contest has not been held every year. If the current big-wave season is any indication, the prospects are bright for 2009. The northwest swell that hit Northern California on the weekend of Nov. 29-30 produced what many surfers called the best Maverick's surf they'd ever seen.
Then again, the competitors gladly would settle for the conditions that graced the past two events. Baker's 2006 victory came on a postcard-perfect day with sets up to 25 feet (translating to some 50 feet on the face). Last year's event featured glorious sunshine and 20-foot surf, and in a remarkable show of sportsmanship, Long and the other five finalists – Baker, Grant Washburn, Evan Slater, Jamie Sterling and Tyler Smith – agreed to split the prize money, no matter who finished on top.
Dave Wassell, a Hawaii-based lifeguard who has made the invitee list for the first time, recently offered a pretty good summation of Maverick's. "You can't compare this place to Hawaii; it's like nothing else," Wassell said. "It's got cold water, giant sharks, giant waves and giant rocks."