Jan 03 2009
Indonesia issued a Tsunami alert after a quake of 7.2 magnitude struck near Manokwari on the island on Papua in eastern Indonesia.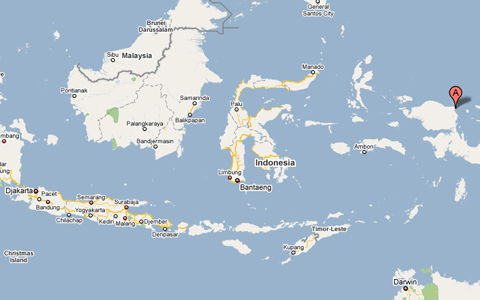 JAKARTA, Indonesia (AP) — A strong earthquake in remote eastern Indonesia cut power lines, cracked building walls and sent panicked residents running out of their homes toward higher ground Sunday, authorities and witnesses said.
The Indonesian Meteorology and Seismology Agency warned that with a preliminary magnitude of 7.2 it was strong enough to cause a tsunami. However, there were no immediate reports of giant waves and the warning was lifted within an hour.
The tremor struck at 2:43 a.m. local time, around 85 miles off the coast of Manokwari, Papua, at a depth of 6 miles.
The U.S. Geological Survey put the strength at a more powerful 7.6 magnitude and nearly three times the depth. Shallow earthquakes generally cause more damage than deeper ones.
Electricity went off and people fled their homes in the dark, fearing a tsunami, said Hasim Rumatiga, a local health official.
In the town of Sorong, very near to the epicenter, a resident told El Shinta radio buildings and houses had been slightly damaged.
Indonesia straddles a chain of fault lines and volcanoes known as the Pacific "Ring of Fire" and is prone to seismic activity. A huge quake off western Indonesia caused the 2004 Asian tsunami that killed around 230,000 people, more than half of them in Sumatra.