Jan 22 2009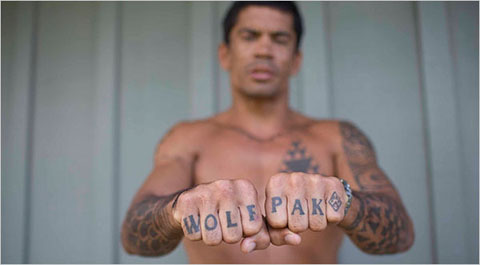 Photo Credit: Marco Garcia
The New York Times profiles Kala Alexander, Pipeline local and founder of the Wolfpack, as he explains why the Wolfpack got started and how it regulates and protects the Pipeline line-up. Kala cuts a larger than life figure as a pipeline local, community volunteer, actor, surfer, and businessman, but with a violent past. He spent time in prison for assault charges on Kauai. Regulating the line-up at Pipeline has meant physical intimidation and occasional violence to those who don't follow the rules. Da Hui and the Wolfpack emphasize respect for the locals and order in the line-up; they enforce the code through violence and/or threats of violence. Kala was also profiled recently by Outside Magazine and has his own website. Unfortunately, there's no blog on his site; it would be interesting to hear Kala's thoughts and responses to readers. Youtube interview with Kala at the bottom.
From the NYT article:
"The code is to respect other people," Alexander, 39, said. "People come over here and don't respect other people. You're going to run into problems if you do that."
That is what happened to Chris Ward, a 30-year-old professional from San Clemente, Calif., and runner-up to Kelly Slater last month at the Pipeline Masters. In November, Australian publications reported that Ward cut off a local surfer while riding a wave at Pipeline. He was banished to the beach, where a Wolfpak member smacked him in the head. Without providing details, Ward confirmed that the incident happened.
"It was crowded when I came here," Alexander said about Pipeline. "A lot of people in the water, not much respect. Where I grew up on Kauai, you respect everybody in the water, especially your elders. Don't step out of line. We just brought that mentality over here."