May 26 2009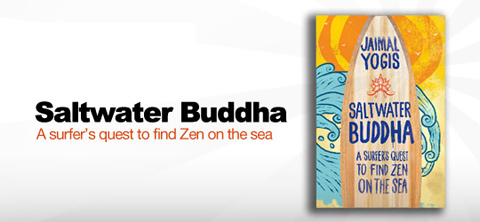 Jaimal Yogis, NorCal local, award-winning writer, and part time Buddhist, writes simply and eloquently about his own discovery of surfing in a remarkable account that mixes surfing and snips of Buddhism. Saltwater Buddha resonates with every surfer with stories echoing surfing's journey of discovery. As surfers, we all know that the sport is much more than the act of standing on a fiberglass boarding and gliding across waves; but it is a struggle to explain that without sounding like the media charicature of surfers. "Bro, it's all about the wave…"
Jaimal's spiritual search parallels his discovery of surfing in high school. He did what many of us wished we had, bought a one way ticket to Hawaii at the height of his youth and surfing exuberance. Surfing takes Jaimal through Hawaii, San Francisco, and New York. Jaimal writes simply yet powerfully about the sport and weaves stories of Buddhism. I finished the book in a night and look forward to reading more from Jaimal. Saltwater Buddha puts Jaimal firmly in the class of other great writing by writers such as Duane Duarte (Caught Inside) and William Finnegan (Playing Doc's Games). Even more Saltwater Buddha is a an excellent narative that transcends surfing.
I turned my board, pointed it toward the rocks and began pumping my hands through the water. The thing began to lift, kept lifting. Up, up, up. I was looking down the line of a horizontal tornado and my board picked up speed. I didn't hesitate. My body somehow knew.
Then… speed. Unbelievable speed. Not walking on water. Running. Gliding. Flying. No separate self. No Jaimal riding. No wave about to crush me. No thought. Just the sound of thunder behind me. Just a blue wall transforming. Just–I saw the rocks coming.
More and more authors are having to utilize social channels to get their content out there and build their following. Tim Ferrriss is well known for his guerilla marketing style tactics of launching his books. The best authors are influencers (as in the case of Tim Ferriss) with build in loyal audiences on Instagram and other social channels. These authors use these social channels to keep in touch with their audiences between books so they have a build in audience of their core fans for their next book launch. Such authors will use all available social channels including Instagram, Facebook, Twitter, and YouTube. Twitch (live streaming app owned by Amazon) is even emerging as a channel as well. See twitch statistics here.
Most Popular Posts:
Incredible HD Footage of Surfer in the Barrel
Clark Little's Stunning Images of Waves
Diver Fights and Kills 12 ft. Tiger Shark (Photos)
Your Risk of Dying of a Shark Attack