Dec 30 2008
1) Kelly destroys ASP winning 9th world championship.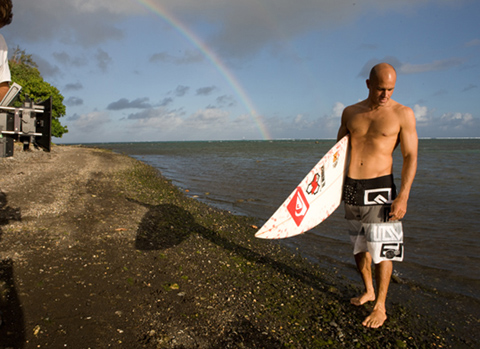 Photo: Quicksilver
I'm not sure there's anything that needs to said here. He blew away the field, winning 6 contests and 5 of the first 7 contests. It was never a contest, there was no race in points, it was just a matter of when he would close the deal, which he did in Mundaka, Spain. Unless the top 10 on the tour step up huge next year, there doesn't look like anything is getting in the way of Kelly winning his 10th world title next year. Final ASP Rankings.
2) AI implodes on tour, takes 2009 off.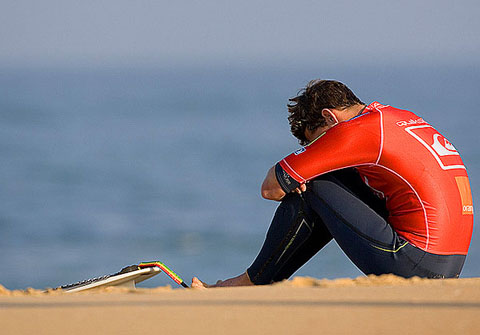 Photo: ASP/Cestari
Andy Irons put up a disappointing performance on WCT tour in 2008. He highest finish was 5th place. He failed to show up for his heat at the Quicksilver Pro France and skipped the Brazil contest leading to speculation about his troubles. Andy announced that he was taking 2009 off from the tour, and may be following the path of free surfer of his brother, Bruce Irons.While I respect any athletes decision to do what he pleases with his career, A.I. has shown to be the best competitor to Kelly Slater (no disrepect to Taj, Mick, Parko, Bede, and others in the top 10). When he's on top form, he's one of the most exciting surfers to watch on tour. So while a year free surfing the best barrels of the world will no doubt be the time of his life, he will be missed on the 2009 WCT tour and his absence removes one more hurdle to Kelly Slater clinching his 10th world title.
3) Kelly wins 6th pipeline masters (on 5'11" board).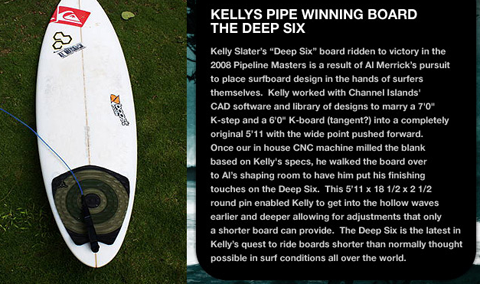 Photo: Channel Islands Surfboards
Kelly looked unstoppable all year and the Pipeline Masters was no exception. He beat Chris Ward in the final heat while riding a 5'11" in 8-10 ft Pipeline. Adding a final flourish to his epic year. Well done, Kelly. Looking forward to see what you can do next year.
4) Year of the shark.