Dec 30 2008
1) Kelly destroys ASP winning 9th world championship.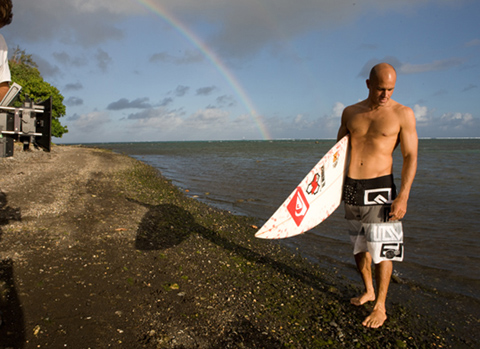 Photo: Quicksilver
I'm not sure there's anything that needs to said here. He blew away the field, winning 6 contests and 5 of the first 7 contests. It was never a contest, there was no race in points, it was just a matter of when he would close the deal, which he did in Mundaka, Spain. Unless the top 10 on the tour step up huge next year, there doesn't look like anything is getting in the way of Kelly winning his 10th world title next year. Final ASP Rankings.
2) AI implodes on tour, takes 2009 off.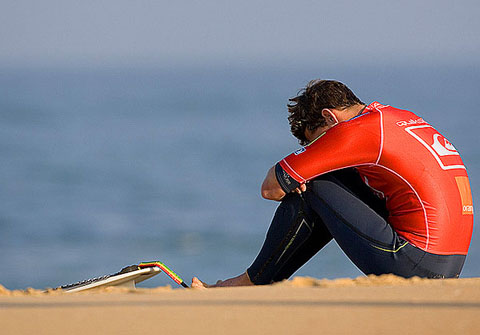 Photo: ASP/Cestari
Andy Irons put up a disappointing performance on WCT tour in 2008. He highest finish was 5th place. He failed to show up for his heat at the Quicksilver Pro France and skipped the Brazil contest leading to speculation about his troubles. Andy announced that he was taking 2009 off from the tour, and may be following the path of free surfer of his brother, Bruce Irons.While I respect any athletes decision to do what he pleases with his career, A.I. has shown to be the best competitor to Kelly Slater (no disrepect to Taj, Mick, Parko, Bede, and others in the top 10). When he's on top form, he's one of the most exciting surfers to watch on tour. So while a year free surfing the best barrels of the world will no doubt be the time of his life, he will be missed on the 2009 WCT tour and his absence removes one more hurdle to Kelly Slater clinching his 10th world title.
3) Kelly wins 6th pipeline masters (on 5'11" board).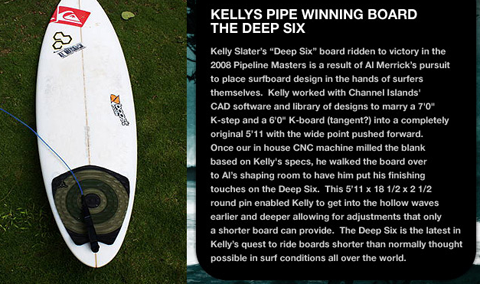 Photo: Channel Islands Surfboards
Kelly looked unstoppable all year and the Pipeline Masters was no exception. He beat Chris Ward in the final heat while riding a 5'11" in 8-10 ft Pipeline. Adding a final flourish to his epic year. Well done, Kelly. Looking forward to see what you can do next year.
4) Year of the shark.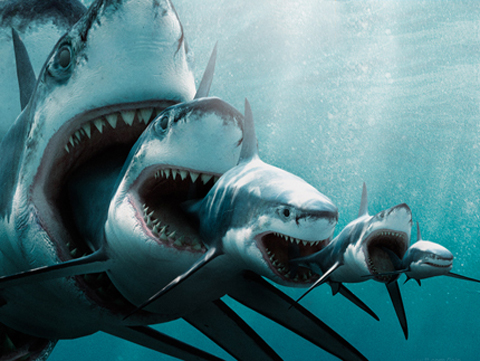 Fatal shark attacks in San Diego and in Mexico along with a record setting year of attacks at New Smyrna Beach (more here), Florida marred the year and kept surfers out of the water in these areas. The attacks created media hysteria and were blamed on everything from global warming to the surfers themselves. The truth is that sharks attacks happen and will continue to do so as more and more people spend more time in and around the ocean, but the odds of getting killed by a shark haven't changed (practically zero).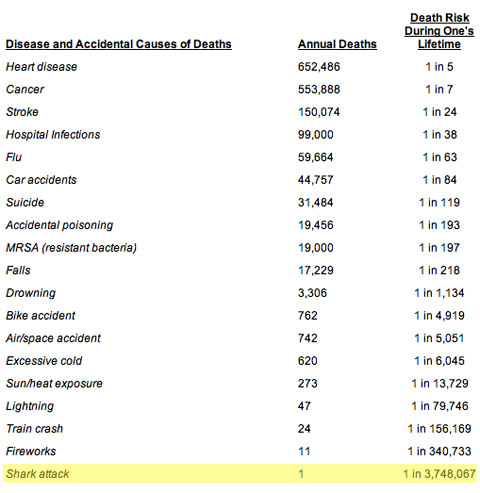 Image: International Shark Attack File
5) Cortes Goes Huge! wins Billabong XXL for Biggest Wave.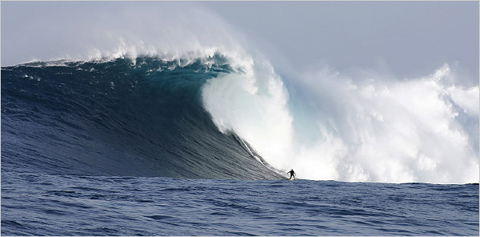 Photo: Robert Brown
Mike Parson goes XXL at Cortes Bank on Jan 5, 2008 (NYT  article).
6) Bede Durbridge on fire on tour.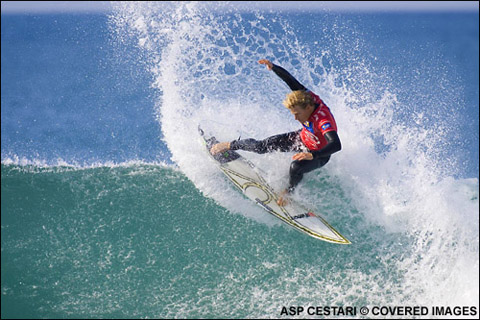 Australian Pro, Bede Durbidge, finished the 2006 ASP season ranked a very respectable 15th in the world especially considering he was unknown on tour up to that point. At the start of the 2007 ASP Tour, Bede Durbidge was without a sponsor and was scraping by to pay for the travel expenses of the tour after Billabong opted not to re-sign him at the end of 2006. Big mistake. Durbidge proved Billabong and everyone else on tour wrong by finishing 5th on the World Tour in 2007, and finished 2nd in 2008.
7) PWCs banned at Ghost Trees.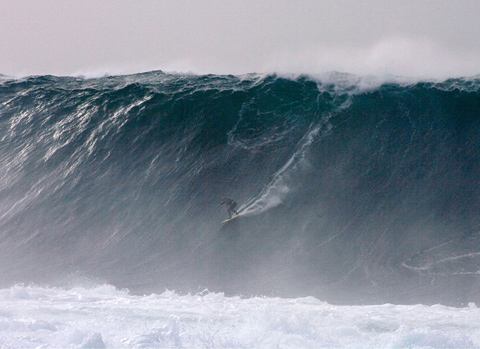 Photo: Robert Brown
A site we will no longer see at Ghost Trees as PWC and tow-ins are no banned at Ghost Tree and Moss Landing. Mavericks remains a "seasonal" PWC zone. (Surfing Mag)
8) Mavericks goes mental, best paddle day at Mavericks.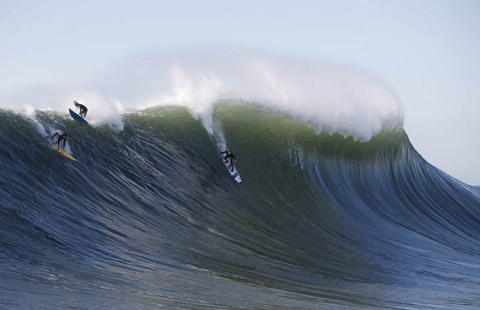 Photo: Robert Brown
Paddling is back at Mavericks as perfect conditions come to Mavericks come on Thanksgiving weekend
9) Best conditions for triple crown.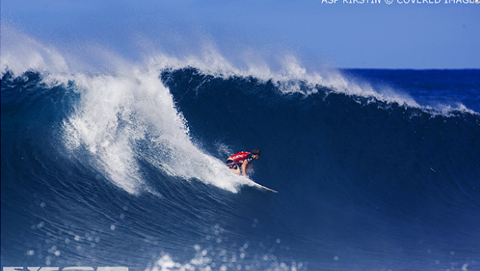 Photo: ASP
The 2008 Triple Crown was held in some of the best conditions ever. Joel Parkinson took the title with Kelly Slater winning the Pipeline Masters.
10) Shane Dorian wins Billabong XXL Ride of the Year at massive Teahupoo.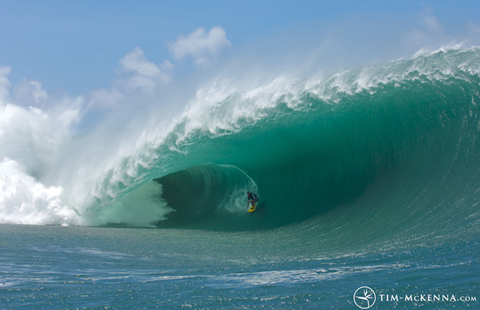 Photo: Tim McKenna
Honorable Mention: Western Australia takes tow surfing to a new level. (All photos)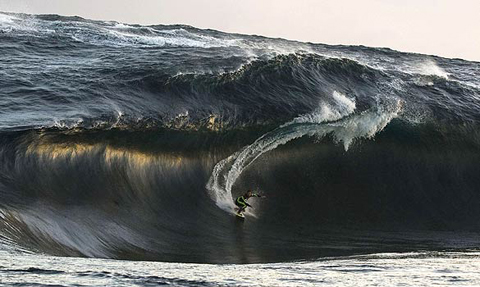 Photo: Andrew Buckley